Our Team
Located in Evanston, Wyoming Bear River Veterinary Clinic is one of the best places to come as a dog or cat lover. Since opening, we have built up a loyal pet owner following with our genuine love for animals, and commitment to courteous service.
We are an AAHA approved Veterinary Clinic serving Uinta, Lincoln, Rich and Summit counties.
We currently have three veterinarians on staff.
Sam is from Delta, Utah. He graduated from the College of Veterinary Medicine at Washington State University. He and his wife have five children they are raising together. He works on both small and large animals and is the owner and operator of the business.
Glen Hallows is one of our associate veterinarians. Glen started practicing here at Bear River Veterinary Clinic over 30 years ago, after graduating from Colorado State University Veterinary School. Glen is the reason this clinic has done as well for so many years. Glen also works on both small and large animals. Glen is an avid outdoors man. He enjoys hunting and fishing. Glen and his wife raised four children.
Pam Handly is our other associate veterinarian. Pam also graduated from the College of Veterinary Medicine in Washington State University. Pam works on small animals and horses. Pam has been practicing here most of her career. She has two sons and is very active in their lives and activities. Pam also enjoys the outdoors. When not at work, you can find her doing various outdoor activities.
We have various support staff who keep our clinic functioning. We could not do this without every member of our team.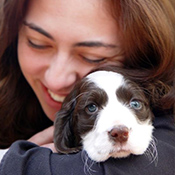 Picture of woman holding puppy