Our Doctors
Sam Nielsen DVM is the owner and a predominantly large animal veterinarian. He loves spending time with his children and involving them in many activities around the veterinary clinic. He has been with Bear River Veterinary Clinic since April 2012 and plans on staying and growing here for many years to come.
Pam Handly DVM is an associate veterinarian. Pam graduated from the College of Veterinary Medicine in Washington State University. Pam works on small animals and horses. Pam has been practicing here most of her career. She has two sons and is very active in their lives and activities. Pam also enjoys the outdoors. When not at work, you can find her doing various outdoor activities.
Kim Porter DVM is an associate veterinarian who graduated from the College of Veterinary Medicine at Washington State University in 2020. She is from the Evanston area and was excited to move back to Wyoming. She has a beautiful family, whom she loves spending time with and is an amazing veterinarian. She has interest in small animal medicine and surgery and large animal veterinary services.
We have various support staff who keep our clinic functioning. We could not do this without every member of our team.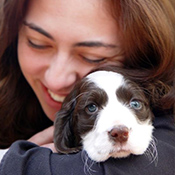 Picture of woman holding puppy